Front Door Inspirations This Spring
Give your front door a dose of fresh color to perk up a home's exterior and extend a gracious welcome.
Refreshing your door with a glossy new coat of paint is a quick way to make a lasting first impression. Benjamin Moore's Aura® Grand Entrance line, specially formulated for front doors, is available in any color.
A Case for Contrast
Most exterior paint colors and materials lean toward neutral shades, so a colorful front door is a chance to express your personal style through a central exterior architectural feature. Adding a statement color to the front door is also an easy way to uplift the façade of a home while, complementing the architecture and surrounding landscape.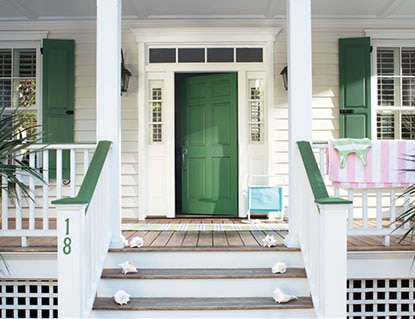 Warm Welcome
Hot shots of red, yellow or orange are naturally warm and exuberant. Vivid accent colors make a strong design statement but mix surprisingly well with most other shades, especially the neutrals most often used as the primary color of a house.
Here, Caliente AF-290 on the front door adds a spark of color against classic White Diamond OC-61 siding.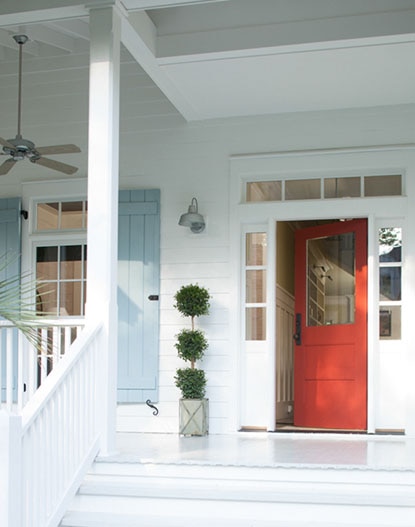 Stay Cool
Green, gray and blue doors are a naturally gracious expression for the entrance to your home, especially when they contrast with a house's warm undertones.
For impact, search for saturated colors that will pop from surrounding architecture, as seen here in this this elegant front door, painted in Mopboard Black CW-680.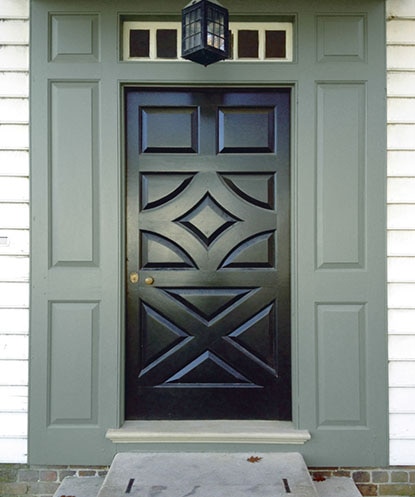 Notes on Harmony
Take your color cues from inside the house to pick a paint color you'll love. Think about the colors of the space your door will open into. Pull a strong accent color from those spaces for color continuity or choose a more saturated shade of a primary interior color. The front door in Jack Pine 692 against a wall painted in Timothy Straw 2149-40, shown here, exemplifies this design concept.
Sustaining your front door's depth of color is achievable with Aura Grand Entrance. As durable as it is beautiful, this paint is specially formulated to retain color and gloss, whatever the weather.
Ready to turn inspiration into reality? We're here to take you every step of the way, from prep to finish. Watch our how-to video to see how we do it, then download the PDF for the step-by-step method.